The Jetspeed is back – and the FT2 version is far more than just an FT1 with a 2019 colour scheme. Carrying on CCM's range of more tapered and neater fitting skates, the FT2 boasts a huge number of adjustments, tweaks and redesigned components – putting it right at the top of the Jetspeed range.
We've looked at them, taken them on the ice, weighed them, pulled them to pieces (as much as possible!) and got down to the nitty gritty of what makes the FT2 such an exceptional pair of skates…
Our test skates
We've tested the CCM Jetspeed FT2 in an 8.5D – which tipped our scales at 790g. That's slightly more than the FT1 – although only by 18g – so it's a weight difference that's unlikely to be noticeable even by a pro.
As expected, the Jetspeed is a neater fitting skate – although perhaps offers a touch more movement than the FT1, which a few people noted as being very neat fitting around the heel.

First impressions
When an upgraded or updated version of a skate comes to us, the first thing we do is line it up next to its predecessor to see how to two look side-by-side. In the case of the FT2, the differences are there – but you'd perhaps struggle to notice them at a glance.
That similarity is no bad thing of course – the FT1 is a great looking pair of skates. Upon closer inspection you'll notice the slightly asymmetrical lacing system the FT2 boasts – as well as the SpeedBlade XS holders that let you swap steels quickly – akin to the Tuuk Lightspeed Edges that you find on similarly priced Bauer skates.
When comparing the FT1 and FT2s, it's noticeable quite how the FT1s have aged – but this slightly lacking durability is something CCM promise to have remedied with this next generation Jetspeed…
Technical features
Size: 8.5D
Weight: 794g
Heat Mouldable: Yes
Material: RocketFrame composite
Quarter Package: LiteFrame 360 EVO one-piece
Ankle Padding: Multi-density memory foam – with asymmetrical foot for improved fit
Lining: TotalDri Pro+ with improved abrasion protection
Footbed: CCM's in-house Orthomove
Outsole: No traditional outsole – all part of the one-piece LiteFrame 360 shell
Tongue: Asymmetrical cut with off-centre flex point for improved fit
Blade Holder: NEW quick-release SpeedBlade XS
Runner: Oxide treated Speedblade XS1 (+2mm)
Warranty: Skate – 90 days, Blades – 1 year
The Jetspeed FT2 experience
On the ice, the CCM Jetspeed FT2 feels outstanding. There's a huge amount of computer aided design that's gone into making sure the power transfer is as efficient as possible when you move. There's no doubt that this is a neat fitting skate – but this genuinely gives a feeling that's about as close as you'll get to attaching blade holders directly to your feet!
Power is instantly there when you lunge forward – and there's an outstanding level of stability that comes from the extra 2mm that the Speedblade XS1s gives to the skate. The FT2 is a skate that 99% of us won't be able to take to its absolute limit – and that's something that inspires a lot of confidence when you're pushing hard.

LiteFrame EVO 360 one-piece body
Although the FT2 is clearly from the same Jetspeed family as the FT1, the body that it's built around is completely new. The LiteFrame EVO 360 is a fully redesigned composite boot; it's got a narrow tight heel lock and a slightly narrowed forefoot – it's still a medium volume skate, but obviously doesn't have as much wiggle-room as a pair of Super Tacks.
If you've pulled a pair of FT1s on and found the heel lock to be just a little too tight, it's worth keeping an open mind with the FT2s. CCM have listened to the feedback and now claim that this improved heel design offers the hold you'd expect from Jetspeeds – but without the restriction that a few people found was present in previous models.
CCM have been very clear that they've built upon the already excellent energy transfer that you expect from Jetspeeds – and these really do the talking on the ice. If you're looking for a skate that's going to hold you tight – without feeling cramped – you need to be checking the FT2s out.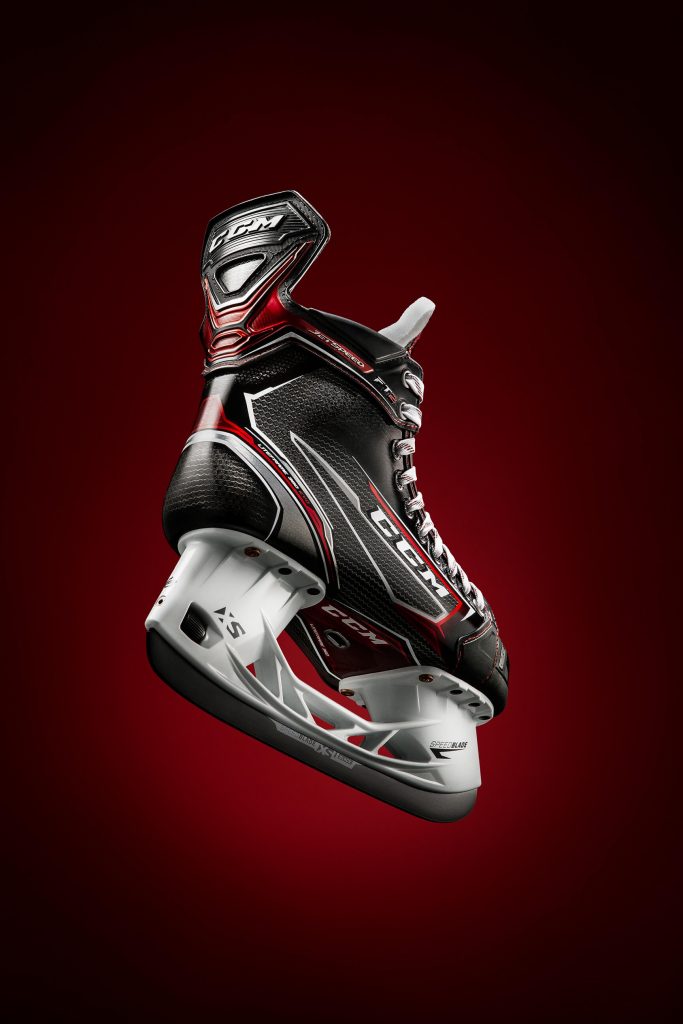 Asymmetrical Redesigned Tongue
Part of the Jetspeed redesign revolves around the tongue. It's got the multi-density foam and lace bite protection that goes without saying at this level – but, interestingly, it's slightly asymmetrical – and CCM say that helps to get that locked-down energy-efficient fit while still offering excellent comfort.
Sure enough, lacing up after a visit to the oven feel fantastic. CCM have made a few tiny adjustments to the Jetspeed like this – the kind of adjustments that you didn't know you needed when you were in your FT1s – but you really appreciate when you hit the ice in the FT2s. While we're talking internals – it's also worth noting the the TotalDri Pro+ lining is uprated too – with improved abrasion protection that'll keep you comfier for longer.
Quick release Speedblade XS1
If you like your skates to be packed with great new features, there's never been a better time to be re-investing in CCM Jetspeeds. The FT2 says hello to a new quick-release holder – the Speedblade XS1.
If you're familiar with the Tuuk Lightspeeds that are often equipped in the Bauer range, then you might be expecting a trigger system that pops the rear of the blade down for quick removal. CCM have actually gone down a slightly different route with the Speedblade XS1 – with a screw mechanism that holds the steel.
It's fractionally more effort than pulling a trigger – but, in exchange for the additional 3 seconds it's going to take you to swap your runners, CCM claim you're getting the best power transfer available from any quick release holder. You may have noticed that the Speedblade system's been trialled by a good number of pros for a while now – and it seems to be performing with zero power-loss – exactly as promised…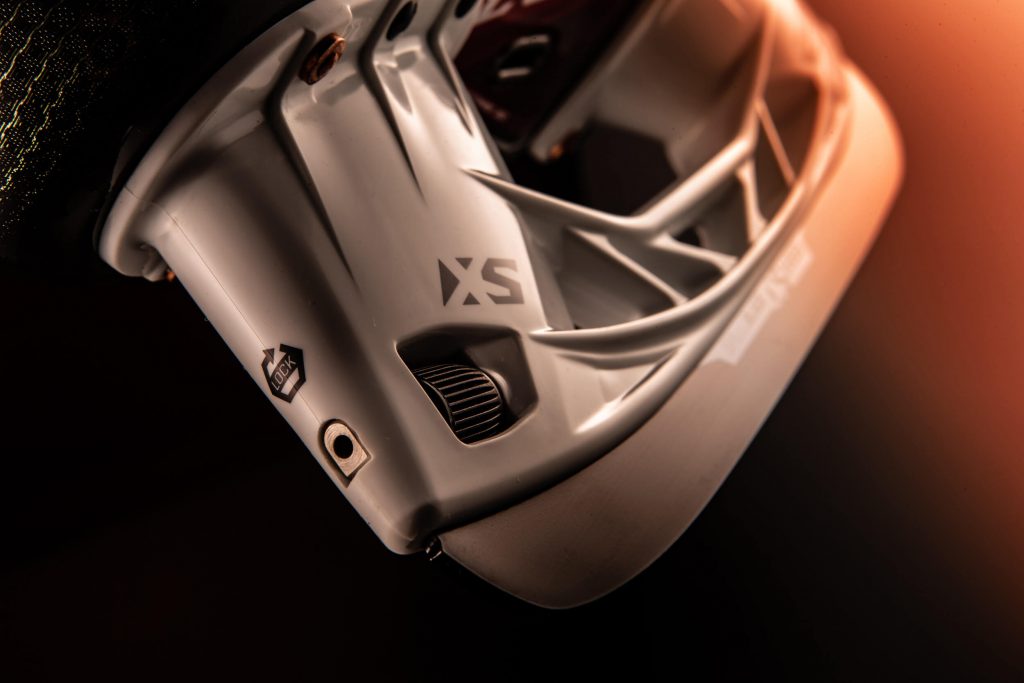 Improved durability
If there's one thing that CCM have been eager to drive home, it's the durability of the FT2s. The FT1 is an excellent skate – but the weight saving that was done on the originals could, arguably, have come at the expense of durability. This obviously isn't a problem when you're in the NHL – but seeing your pro-standard skates deteriorating when you're buying your skates with your own money is definitely a frustrating experience.
A big part of this durability revolves around maintaining a good level of stiffness over time – and since that's the major selling point of the Jetspeeds, these improvements obviously represent a better long-term pair of skates. Interestingly, the FT2s we tested were noticeably stiffer than our slightly tired FT1s – so, again, CCM are definitely responding to a player need.
Of course, it's hard to say whether the FT2s are going to live up this enhanced level of toughness – but since it's something CCM are so vocal about, it's difficult to imagine they've not seriously tested these new Jetspeeds to make sure they're coming good with their promise.

Overall
It's sometimes difficult to review an 'improved' version of a skate that you've already said is absolutely excellent – but, with the Jetspeed FT2, CCM have definitely stepped their game up even further. The Speedblades are an obvious benefit – and the improved fit is exactly what a good handful of Jetspeed fans have been asking for.
With the FT2, CCM have taken an exceptionally good skate and done what manufacturers often only dream of; they've made it more efficient, more comfortable, more durable – and even added the ability to swap out runners in just seconds.
That's an impressive list when you consider they've also only added 18g to one of the lightest skates on the market. If you're looking for a light skate that feels like lightning on the ice, you owe it to yourself to check out the FT2s…