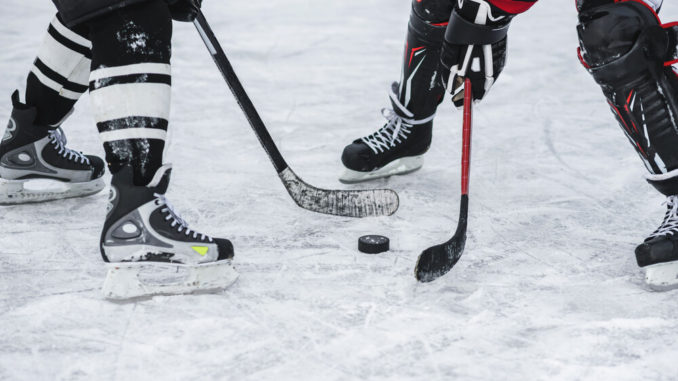 Aside from the ice and possibly your stick, there isn't much that's more important to ice hockey than your skates.
Ice Hockey Skate reviews are brilliant – but ice hockey skates are a very personal thing; perfect for one person is painful for another. So, how do you avoid the risk of getting something that just doesn't suit you?
Rather than suggest any one specific skate, we've drawn on 20+ years of skate fitting and buying experience to create an in-depth guide that will help you identify which type of skate's likely to suit you, your feet, your play style and your budget.
Hockey Skate Sizing
Skate sizing doesn't quite correspond to your shoe sizing – so be careful – and, as anyone who's switched between skate manufacturers will tell you, often skate company sizes don't correspond to one another! Check a few reviews to see how other people have found the fit.
Unlike buying trainers, just choosing a size that relates to the length of your foot isn't quite going to cut it here. Firstly, remember these points:
Hockey skate sizing is different! Buy a size that's 1.0-1.5 sizes smaller than your daily trainers or shoes.
You should have a maximum of 6-7mm (1/4 inch) in the heel with your toes barely touching the toe box cap.
Secondly, you're going to need to know roughly how wide your foot is. Don't worry – no need for a tape measure, you're likely to know if you've got a wider than average foot as some trainers and shoes will feel cramped despite being the right size.
If you're an average width you're likely to be a 'D' fitting in a hockey skate. Slightly wider? Then you'll probably be an 'EE'.
There are other width designations – D, R, E and W – but they crop up far less frequently. If you're in any doubt, R is generally equal to a D and W to an EE – but check reviews, FAQs or contact the manufacturer directly if you're still not sure.
Recreational vs. Competitive – and why it matters
Your first step toward finding the right skates should be identifying whether you're a recreational or competitive skater.
In most sports spending a lot of cash on competitive pro-level kit will often give you an immediate advantage – perhaps lighter equipment, better fabrics – and so forth. Ice hockey's a little bit different though – jump into a pro-level skate and you stand a chance of hindering your play rather than improving it.
Why?
It's because your skating style and form develops with your experience. A competitive skate is created with serious players in mind – someone of this level has hundreds, if not thousands of hours on the ice under their belts – with their techniques and bodies adapted to the way they play.
If you can think back to the first few times you hit the ice you'll remember the hardcore aches and pains that followed you around for days afterward! Even now, sloppy skating or a lack of warm-up is likely to end with aches and pains – this is all about the proper form and technique that develops with time and experience.
Someone who's looking to play more recreationally is unlikely to need advanced techniques just yet. As such recreational skaters can benefit from a more forgiving skate – generally one that's not quite as stiff. As strength, technique and competitiveness builds, so does the ability to take on a less forgiving pro-level skate.
Are you looking for a recreational skate?
The great news is, if you're in the market for a recreational skate, you're going to get yourself a pair that look every bit as impressive as their more professional counterparts – but at a fraction of the price. Bauer, CCM , Easton, Reebok and other major manufacturers all make a range of skates that run from beginner to the upper level of recreational.
At this level, comfort and support are both really important. Don't worry about stiffness levels and the protection you'll see in pro skates – you'd be spending money on features you're unlikely to see the full benefit of.
Are you at a competitive level?
If you've done your time on the ice and feel like a competitive skate is right for you – it's time to be thinking seriously about something that ticks all the right boxes.
Compared to a recreational skate, competitive skates offer:
A lighter build – offering better agility, off the mark speed and overall speed
A solid long-lasting boot that'll stand up to the abuse it receives in a high-end game
Anatomical support that puts your physical well-being at the top of the priority list
The levels of padding and support that protect against the pace and power of an elite game
Thermoformed boot bodies that offer you maximum comfort and power delivery
Think about your foot type
Now you're looking at the recreational or competitive level skates that will suit your play style the next part of the process is considering your foot type.
Even people who have no problem fitting into trainers or footwear for other sports often find that skates are different – hence, skate manufacturers generally have different model lines that are made for different types of feet. Take Bauer Skates for example – their Nexus model is designed for a wider foot, with their Vapour series notably slimmer fitting, made for narrower feet.
As well as the length of your foot that makes the traditional 'shoe size' – you need to be thinking about the following:
Depth of your foot – i.e. thickness of your foot when standing
Width of your ankle and heel
Width of your feet at the toes
When you've got an idea of the type of feet you have you can find a fit type that will suit. Fit types can be broken down into 3 main styles:
A classic fit has a wider 'deep V' heel shape that means a better and more comfortable fit for players with a wider foot. With this comfort comes greater responsiveness, power and endurance.
Many people's feet fit the 'standard' or typical shape. Choosing a boot with this profile means a heel fit and toe box profile that fits the majority of people well – while still offering some mobility within the boot.
Skates with a more secure fit are likely to be anatomically shaped to fit the foot more neatly. The heel is likely to be asymmetric, holding your foot slightly more naturally while allowing for a more-snug fit. A more secure boot generally offers a more efficient skating experience.
Of course, it's not just the size of your foot that dictates the fit you should go for – personal preference will have some impact too – but with most higher-level boots being heat mouldable, you should look for the type of skate that will fit your foot most naturally out of the box.
Sizing and buying online
Although some people advise against it, we really feel that buying your skates online is ideal – online purchases offer a greater level of protection and return rights should you get things wrong.
Don't be tempted to just make-do with a skate that's not quite the right size. Too tight and it could lead to tendonitis and other painful injuries – too loose and you're not going to get the fit you need to be agile and quick on the ice. Return it and get a size that's perfect.
What does a skate consist of?
Skates are fundamentally created with the same design elements – so beyond finding the right level, profile and fit for you, you should think about the finer detail of the specific component parts.
Let's look at those elements and consider some of the differences you'll find:
Boot
It's not really accurate to consider the boot one element of a skate design – it's actually made up of 7 different parts. They are:
The quarter package is the name given to the overall shell of the boot – although this again is made up of different sections. The different parts of the quarter package are usually stitched together in areas that help articulate the book and allow for natural movement of the foot.
On higher level skates the quarter package is heat mouldable – meaning that at a particular temperate it becomes malleable and can be reshaped. Generally, this involves putting the skates in a warm oven for a short period of time, then putting them on when they're soft – before tightening them around your foot so they adjust to fit you perfectly.
Heat mouldable quarter packages mean that your skates will fit to your foot whatever lumps, bumps or injuries you've picked up along the way. Checking that a boot is heat mouldable is a great idea if you need a very specific fit.
The heel support is the part of the quarter package that's shaped to fit around the contour of your heel. The shape of your foot will dictate what's the most comfortable heel support for you – and you can keep a look out on skates by looking for the phrases 'standard V' or 'deep V'.
The function of the heel support is to 'lock' the skate around your foot – so a snug, comfortable fit is ideal here to give you the right level of responsiveness on the ice. In some, but not all, high performance skates you'll find an asymmetric heel shape, offering a neater fit by considering the ergonomics of the foot.
The ankle padding is the foam that sits in the quarter package recess and gives a snug, supportive fit around your ankle and the Achilles tendon. Some companies opt for a lightweight foam, others go for a slightly more padded memory foam insert.
The fine detail of the ankle support isn't likely to sway you one way or another when you're buying skates, but after a few pairs you might find that you've got a slight preference one way or another.
As with a standard pair of trainers or boots, the tongue covers the top of the foot and, in skates, covers up to the lower shin.
The tongue offers protection to the fragile metatarsal bones in the top of the foot (and the shin – which might not be fragile but is definitely painful if hit with a puck!) and as such, is made of thick foam to take the force out of any impact.
You'll often see a weight associated with a tongue – such as '52oz' – giving some indication of how dense and protective the foam is. Tongues have a hard outer coating that helps stop 'lace bite' (pain that occurs when tight laces put pressure on your upper foot) and in some higher level skates the hard outer tongue is also heat mouldable, meaning a tighter fit is possible but without any associated pain.
The outsole refers to the bottom of the boot – where the holder and runner is attached. The outsole is usually very stiff – necessary as it transfers the power your leg puts into the boot through to the runner that contacts the ice.
The outsole is generally bonded to the quarter package – although in some models (especially those that use carbon or composite mouldings to form the boot) the outsole and quarter package are combined, moulded from one continuous sheet of carbon composite.
Outsoles are generally ventilated, with one or more openings to allow built up heat to leave the boot before you become uncomfortable and sweaty.
The footbed is the part of the skate that makes contact with your foot – known more widely in athletic shoes as the 'insole'. For cleanliness and personal preference reasons, the footbed is generally removable – and some players like to put an aftermarket version in – either offering greater padding (for those who get sore or numb feet while playing) or greater responsiveness with something a little thinner.
Some companies pay a lot of attention to their footplates – Bauer's Speed Plate is a good example – the Speed Plate is heat mouldable and scientifically designed so that the pressure you put on the skate is dispersed in the most efficient way to get your energy through your legs and onto the ice. Choosing a skate that offers comfort and efficiency from its footbed will save you having to adjust a lesser skate.
You might be tempted to think that all boot liners are created equal – but it's definitely not the case. Choosing a skate with a good liner is important if you want to stay comfortable – whatever level you play at.
The liner covers the inside of the boot – and as a result – can become uncomfortable if it becomes saturated with sweat. The use of modern innovative fabrics helps pull sweat away from your feet and, combined with the ventilation built in to most outsoles, keeps your feet dry. If you're susceptible to sweating when the heat's turned up on the ice, make sure you've got a liner that will keep you focused on the game – and not your discomfort.
Holder and runner
The 'holder' is the part of the skate that secures the bottom of the skate to the 'runners' or blades that make for smooth travel on the ice. In recreational skates the two parts of often formed as one, in competitive skates, they're always separate, allowing for replacement of broken or dulled runners.
Power transfer is vitally important when a holder is designed – any flex or compression of the material is wasted energy that's not translating into movement for you. Hence, most holders are made from ultra-stiff plastic or lightweight metal.
Since the runner is the part of the skate that connects you to the ice, there's a lot at stake when it comes to getting it right. The holder should be the right height to facilitate agility and turning on the ice – yet the runner needs to be a size that means you're stable and secure in your skating.
Which holder/runner brands can you trust?
TUUK holders and runners are a benchmark of quality in a competitive skate – and lots of other manufacturers try to emulate the dimensions they create.
CCM Skates which use SpeedBlades are another holder of note – especially given their unique 'trigger' system the allows for ultra-quick swapping of steels when you're keen to get back into the game.
Step Steel and HyperGlide also make some exceptional quality runners that stand the test of the elite game.
Ultimately – which skates should you buy?
Throughout this guide we've aimed to give you as much information on the many variables that come when you're selecting a new pair of skates.
There's no perfect pair of skates for everyone.
Consider this your priority list:
Select a pair of skates appropriate to your skill/use level
Understand the type of feet you have and the fit you're looking for
Select the correct size for you based on current shoe size to skate size conversion
Identify the most important boot/skate features based on your requirements
Work out what you can justify spending
Assuming you've got a small selection left to choose from – read some reviews – and, if you get down to a dead heat between two pairs – embrace your inner child and buy the ones that look the most awesome.
Looking to buy new skates? Read our latest reviews here: