If you're considering a pair of TRUE Catalyst 9 skates, you're undoubtedly aware that anything from TRUE guarantees exceptional comfort and top-level performance benefits on the ice.
The question is, does TRUE's latest elite offering justify the price tag? In this review, we'll delve into the TRUE Catalyst 9 in detail – covering the key features of the skates and how they actually perform on the ice.
Our Test Skates
The TRUE Catalyst 9 ice hockey skates we received to test are a size 9.
Our test skates weighed in at 915 grams, making them an especially light skate, thanks largely to the lightweight composite one-piece shell that we'll talk about in more depth later.
The Catalyst 9 features a sleek black design with the TRUE logo prominently displayed on the side.
It's fair to say that TRUE opts for a more minimalist design for their elite skates, focusing more on performance than flashy aesthetics.

First Impressions
The TRUE Catalyst 9 skates are designed for players who skate at least four or five times per week, or any player looking for excellent comfort and top-level performance benefits.
After a quick session on the ice, it was clear these were a skate designed with agility and precision at the heart of their design.
The energy transfer felt exceptional, which is the kind of thing that really makes a difference when an elite-level skater is giving it their all through 60 minutes.
It's also clear that a lot of effort has gone into creating a liner that combines with the one-piece shell design to keep you comfortable throughout a game.
The Clarino Hydrofoam liner helps eliminate moisture and secures your foot in the boot, preventing sliding and increasing energy transfer.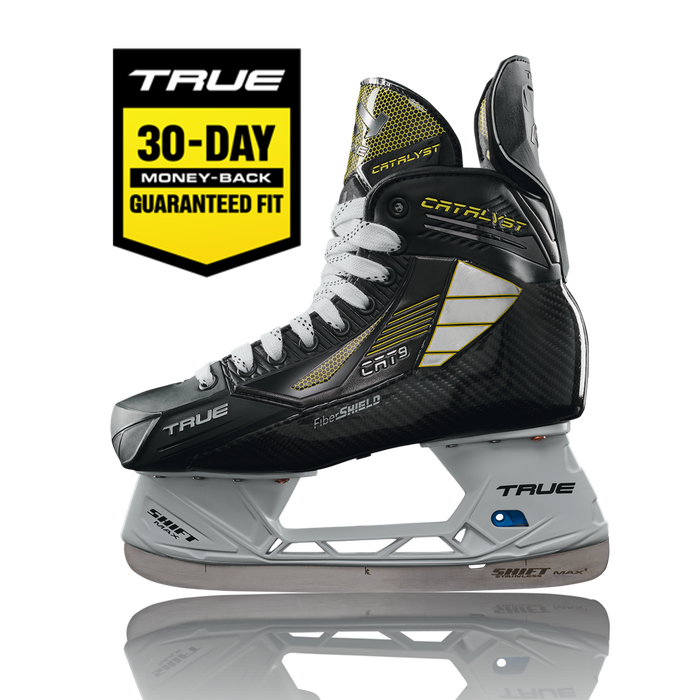 Technical Features
Shoe Size: 9
Weight: 915g
Heat Mouldable: Yes
Quarter Package: Composite One-Piece Shell
Ankle Padding: Orthotic-grade performance foam
Tendon Guard: Replaceable flex tendon guard
Lining: Clarino Hydrofoam Liner
Footbed: Adjustable PFS
Outsole: N/A
Tongue: True Pro tongue with multi-density foam
Blade Holder: Shift Max
Runner: Shift Max
Warranty: 90 days
Family: Catalyst
Advanced Boot Construction and Rigidity
The Catalyst 9 skates introduce the Neurofit+ technology, a thermoformable shell technology that boasts an anatomically considerate design, enhancing the skater's intrinsic connection to the skate through neuromuscular synchronization. This technology amalgamates the merits of its predecessors, TrueShell and Axenic, while also incorporating a FiberShield high-grade synthetic side panel, providing additional protection. The shell of the Catalyst skate has been intentionally softened, reflecting adaptations made in response to feedback from the TF skate series.
Liner Material and Internal Cushioning
Employing a HydroFoam liner, previously featured in the TF series, the skates ensure exemplary moisture management and antimicrobial properties, maintaining a cool and fresh environment within the skate for extended periods. The internal padding is crafted from premium orthotic-grade performance foam, ensuring an enhanced internal feel and comfort within the skate.
Innovatively Designed Toe Cap
The toe cap of the Catalyst 9 is engineered with TRUE's innovative Carv design, a low-profile construct that promotes a more aggressive and aerodynamic playing style. This design, which is both sleeker and lighter than previous iterations on TRUE skates, is particularly beneficial for players who prioritize agility in their gameplay.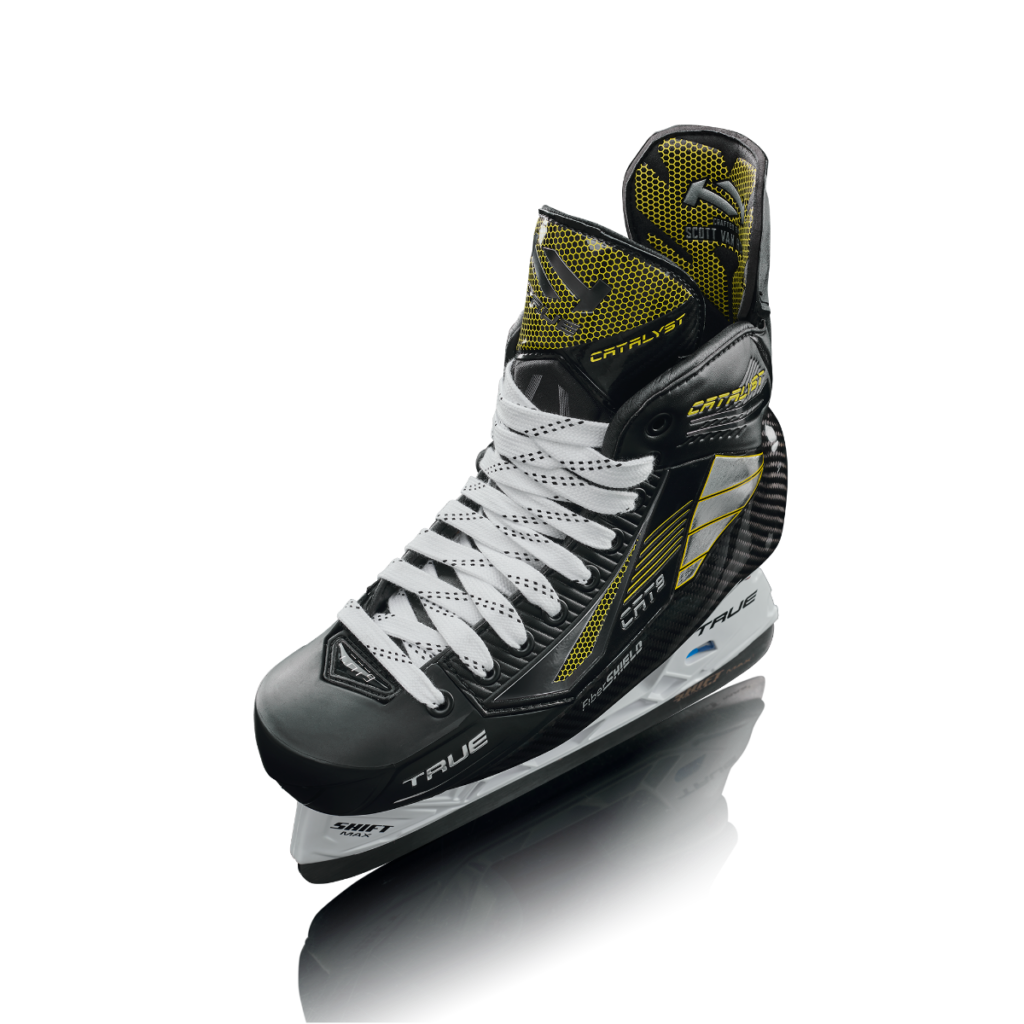 Tongue Construction
The tongue of the Catalyst 9 mirrors that of the TF9, incorporating TRUE's T-Guard insert which provides augmented protection against pucks, sticks, and lace bite. The TRUE Pro Tongue, constructed with multi-density foam, is notably lightweight, facilitating swift and agile skating maneuvers.
Customizable Insoles
The Personalized Fit System (PFS) is integrated into the skates, utilizing insole inserts to cater to low, mid, and high arch feet. Originating from the TF series, this system allows players to tailor their skate fit without necessitating custom orders. The fit insert placements are distinctly marked on the insole, ensuring ease of positioning within the skate.
Runner and Steel Profile
The Shift holder, which made its debut with the TF series, has been enhanced to the Shift Max holder, boasting improved durability and a thicker wall construction. The Shift Max continues to feature the BenchChange technology, enabling swift blade replacements without the need for additional tools, such as a magnetized blade change tool. The Catalyst 9 skates utilize the Shift Max high-grade 9CR stainless steel runner, renowned for its durability and longevity.
Tendon Guard Features
At the rear, the Catalyst 9 skates are equipped with an elite-level dynamic flex tendon guard. It is affixed with a single rivet, allowing for easy replacement, while also providing a degree of recoil, offering an additional propulsion during skating.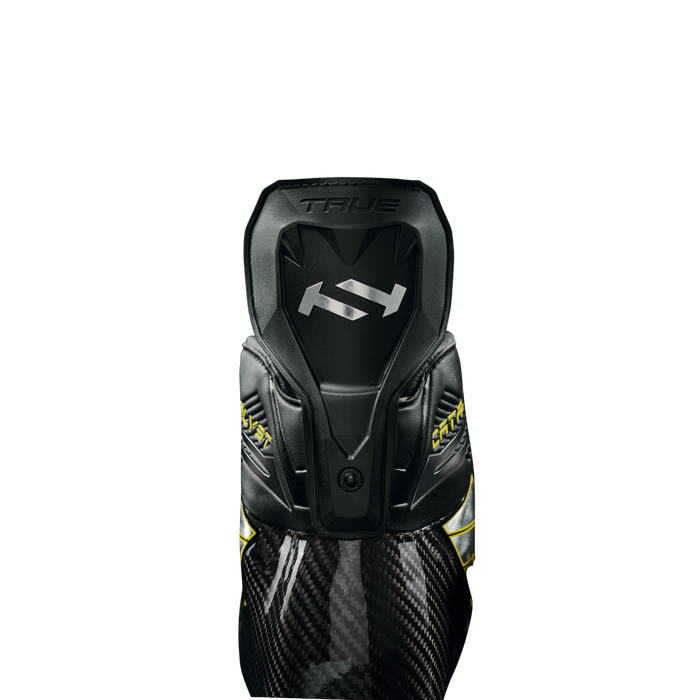 Sizing and Fit Profile
The TRUE Catalyst 9 ice hockey skates cater to a broad spectrum of players, offering sizes from 7 to 11.5 for Senior players, with options in both Regular and Wide widths. A general guideline for selecting the perfect size involves reducing the player's regular shoe size by 1 to 1.5 sizes. For those requiring smaller options, Intermediate and Junior sizes are also available, ensuring a precise fit for various foot dimensions.
TRUE Catalyst 9 – Final Thoughts
The TRUE Catalyst 9 skates are a fantastic blend of new technologies and trusted features. They offer a great combination of comfort, agility, and precision, making them an excellent choice for any player looking for an elite level skate.
The other huge advantage is that they're less costly than many equivalent elite skates from other brands too – so you get superior performance with some cash to spare.
If you're the kind of player that's obsessed with pushing to the next level, the TRUE Catalyst 9 is going to be an extremely worthwhile investment.