Bauer's Nexus range is a class act, with a reputation for performing – whichever level you buy in at. So, when the opportunity to test the flagship skate – the Nexus 1N – presented itself, I jumped at the chance to take them out.
Let's be honest though, the Nexus 1N isn't a budget option – and you'd be foolish to part with your money without knowing that you're at least 99% certain they're going to suit you, your feet and your play style. With that in mind, we've given the 1Ns the most in depth and rigorous review we think you'll find anywhere online.
[mks_button size="large" title="Shop Now" style="squared" url="http://amzn.to/2owc8fe" target="_blank" bg_color="#81d742″ txt_color="#FFFFFF" icon="" icon_type="" nofollow="0″]
Our test skates
We tested the Nexus 1N in a standard 8.0 and weighed the skates at 787 grams – seriously light. You can add a tiny bit more (around 40g) for the Speed Plate footbed.
The first thing I have to say is that the Nexus 1N looks fantastic. Sure, we're all a bit different when it comes to how we like our skates to look, but there's no getting around the fact that these are a classy, low key look – not everyone's into silver and bold colours after all.
An important point to note early on in this review is that, if you're not already aware, the Nexus range and the 1N is a wider fitting skate – which as a wider footed player is an absolute breath of fresh air for me. If like me you've returned skates for being too snug, the 1N is well worth putting on your short list…
First impressions
I'm a fan of putting a couple of steady sessions in before I mould any new skates – and I have to say, The 1N is the closest thing I've felt to a perfect fit right out of the box. The deep heel pocket (more on that later) feels great – and I really benefited from the additional space in the toe box too.
On the ice it's a snappy, sharp feel skate. It's got an explosive feel off the mark and you honestly feel like every ounce of power is translated straight through the skate and onto the ice.
Technical features
Size: 8.0 D
Weight: 787 grams + 42g for the Speed Plate footbeds
Heat mouldable: Yes
Quarter Package: 3D lasted Curv Composite
Ankle padding: Super light memory foam
Heel support: Deep V Heel Fit
Tendon guard: Traditional flex
Lining: 37.5 Polyester, Total Edge Comfort
Footbed: Patented Bauer Speed Plate thermoform balance plate
Outsole: Ultra-light vented composite
Tongue: Form-fit 52oz central and 40oz outer edge with Curv insert
Blade holder: TUUK Lightspeed Edge
Runner: Tuuk LS4 Edge Stainless
Warranty: Boot (90 days) Holder (365 days) Runner (90 days)
[mks_button size="large" title="Shop Now" style="squared" url="http://amzn.to/2owc8fe" target="_blank" bg_color="#81d742″ txt_color="#FFFFFF" icon="" icon_type="" nofollow="0″]
The Nexus 1N experience
This is a stiff, light and comfortable skate right from the word go – and for the first time, I felt the Nexus 1N really rolls with the big boys, despite its more traditional fit. I've broken down my thoughts on how each element of the skate contributes to the overall feel.
The fit
At this level it goes without saying that the Nexus 1N is thermoformable – but being a Bauer, this means you're bringing their 3D lasted Curv composite neat to your foot.
It's almost universally acknowledged that this composite (also seen on the Vapour 1X) is virtually unparalleled when it comes to energy transfer through the boot – and I really felt like when the boot had been in the oven, the responsiveness was out of this world. If you're reading this you probably spend a lot of time on the ice – so getting an ultra-responsive skate without sacrificing comfort is a really big deal.
I'm also going to put it out there that this is literally the deepest 'Deep V' heel shape I've experienced on a skate, which really felt like my foot fell into exactly the right position from the get go and held it in an anatomically correct position. I know everyone's foot is slightly different – but everyone's looking for a great heel lock – and this deep-V delivers.
Speed Plate insoles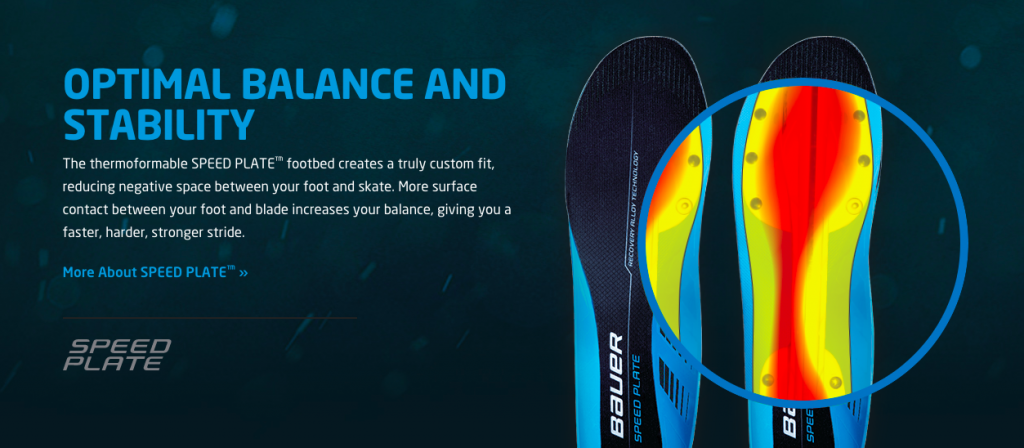 Insoles have often been an issue for me. With a wider foot I sometimes feel like I'm left wallowing around in a boot that made for the handful of people that are too cramped in a more slim skate – so I'm in the habit of automatically sticking an insole in to take up what slack the oven doesn't deal with.
With Speed Plates, this isn't an issue for me anymore. They're heat mouldable – and not just once, but as many times as you like – meaning you can keep tweaking if they're not quite right week to week.
The other thing that's a really big deal with the Speed Plates is the science that's gone into making them. They computer designed to make sure the load is balanced across the sole of the skate – meaning greater energy efficiency and vastly improved stability.
[mks_button size="large" title="Shop Now" style="squared" url="http://amzn.to/2owc8fe" target="_blank" bg_color="#81d742″ txt_color="#FFFFFF" icon="" icon_type="" nofollow="0″]
Liner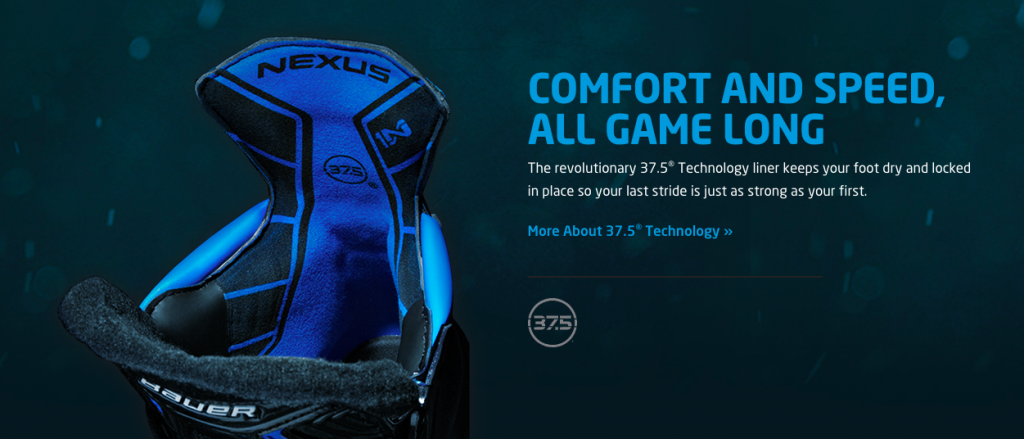 Bauer's 37.5 inner needs little introduction. Using your body heat to draw 6 times the amount of sweat away from your foot vs. standard liners is nothing short of miraculous when the heat's turned up in a game. The vented sole means when that sweat's wicked away, it stays away too.
Another internal feature that's noticeable is the Total Comfort Edge padding at the points where a seriously stuff boot like this is likely to bite your ankle a bit. Total Edge does away with any firm, sharp edges completely. You can pull this boot on without a sock and still feel comfortable around the edges.
TUUK Lightspeed Edge blade holder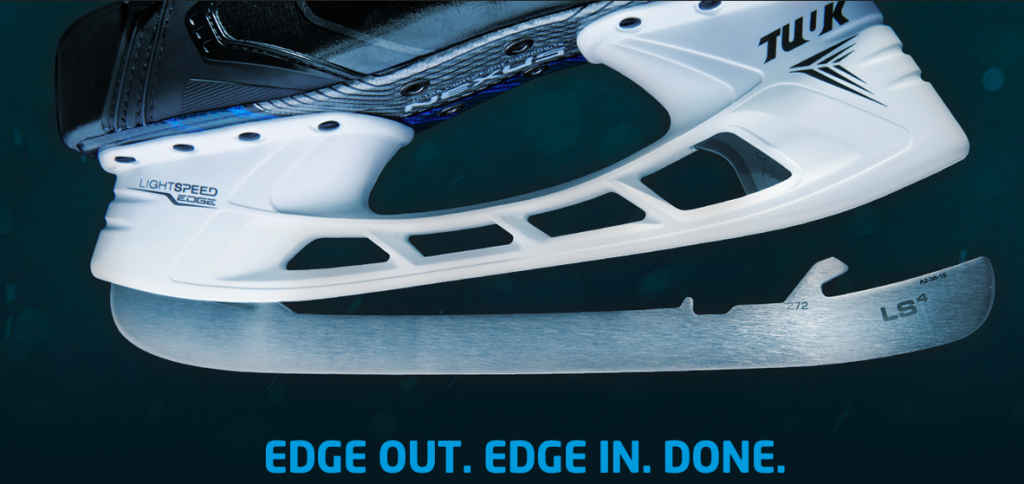 If you want the best holder on the market then the TUUK Lightspeed Edge is going to be right at the top of your wish list. The additional 3mm of height is really noticeable when you push hard and get low turning on the ice – especially when it's twinned with the extra height from the TUUK LS4s.
I have to confess that I'm not likely to be switching steel as much as the NHL boys, but when you do need to, using the quick release trigger system makes it obvious why these holders are the most popular in the league.
Overall
I seriously like this skate. Being a player with a wider foot has sometimes meant I end up feeling like a second-rate citizen when I look at the range of skates available to me – but the Nexus 1N really steps up to the challenge.
This is a stiff and light boot that offers virtually unrivalled responsiveness. I love it – and if you're in the market for a wider more traditional fit, order a pair now, fall in love with the fit – and I'll be amazed if the Nexus 1N didn't become your favourite all time skate.
[mks_button size="large" title="Shop Now" style="squared" url="http://amzn.to/2owc8fe" target="_blank" bg_color="#81d742″ txt_color="#FFFFFF" icon="" icon_type="" nofollow="0″]