Today, I'm excited to share my thoughts on the Bauer Vapor X5 Pro Ice Hockey Skates, a top-tier choice for elite players who demand innovation and top-notch performance on the ice.
When it comes to dominating the game, having the right skates can be a game-changer, propelling you to play at a level above the rest.
Unboxing and First Impressions
The Bauer Vapor X5 Pro skates I got my hands on came in a size 9.0, perfect for adult players like me who are looking to elevate their game. As I unboxed these skates, the first thing that struck me was their lightweight construction. It's evident that Bauer has put a lot of thought into designing these skates for maximum energy transfer, enhancing speed and agility.
Slipping my feet into these skates, I immediately felt the snug, comfortable fit. The Bauer Vapor X5 Pro skates provided excellent support, ensuring my feet remained stable and locked in throughout my skate. The 3D lasted Curv Composite construction gives them a robust yet lightweight feel, and the Digi Comp outsole is designed for lower flex and increased responsiveness.
Inside these skates, you'll find AeroFoam+ padding paired with a HydroLite liner. This combo delivers fantastic support, a soft feel, and moisture-management properties to keep your feet dry and comfortable during intense gameplay. Plus, the Pro Stock 48oz felt tongue provides protection and support, keeping lace-bite at bay and boosting overall comfort.
One of the standout features of the Bauer Vapor X5 Pro skates is the PowerFly holder. This feature is all about takeoff acceleration and side-to-side transitions, thanks to its various flex points. The rigid front post contributes to faster acceleration, while the hyperbolic stability bar enhances balance for those quick transitions.
You can also customize these skates by choosing between Fly-TI or Fly-X runners, both of which are compatible with the PowerFly holder. This allows you to tailor your skates to your preferences and playing style.
Technical Features That Make a Difference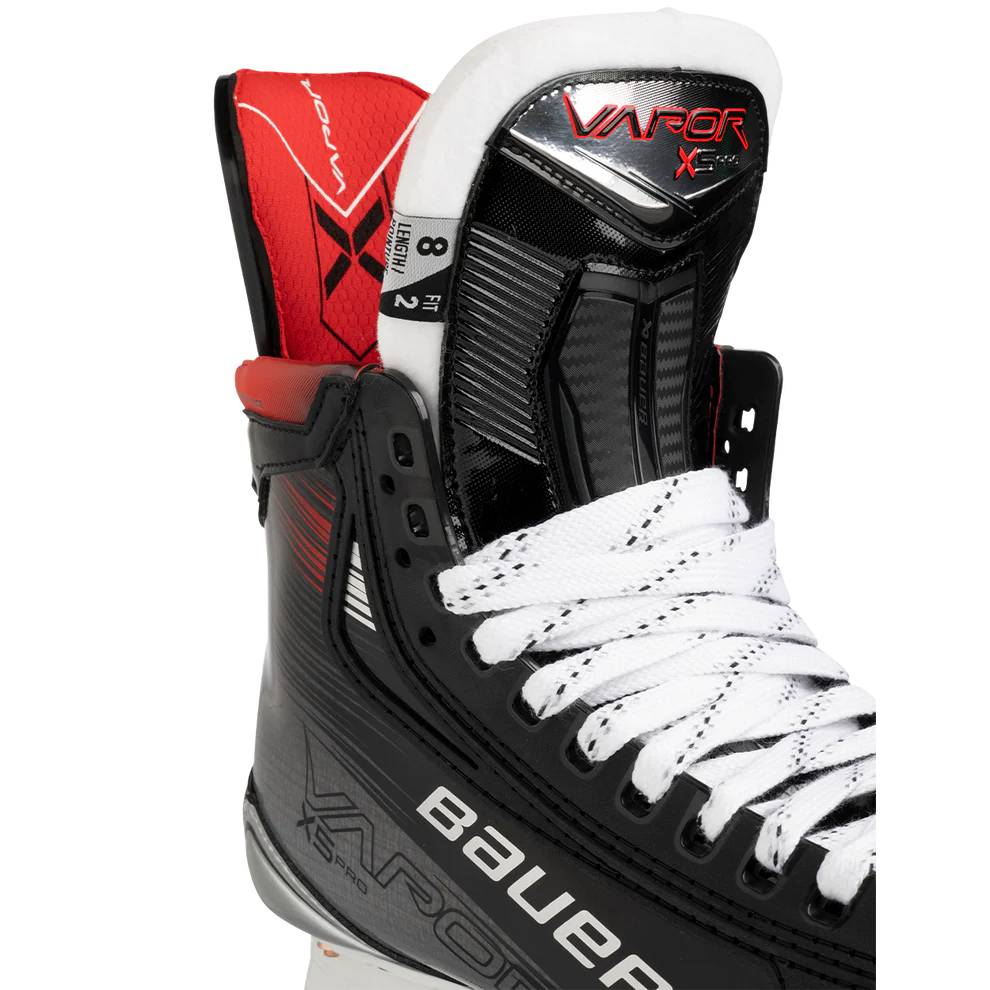 3D Lasted Carbon Curv Composite
The "3D Lasted Carbon Curv Composite" feature in Bauer Vapor X5 Pro skates embodies an advanced construction technique tailored to provide elite-level players with exceptional benefits on the ice. This technology significantly contributes to the structural integrity and support of the skates, forming the quarter package and offering a robust framework.
The stiffness provided by this feature is pivotal for players to achieve explosive speed and agility during gameplay. Moreover, the composite material used is known for its lightweight properties, ensuring players can make nimble moves and respond quickly to in-game situations without being weighed down.
A standout aspect of the "3D Lasted Carbon Curv Composite" is its thermoformable nature, which ensures a personalized fit by contouring to the unique shape of each player's foot. This customized fit is essential for maximizing energy transfer from the foot to the skate, enhancing speed and performance on the ice.
Additionally, by conforming closely to the foot's shape, this feature significantly reduces any negative space within the boot, making the skate more responsive to the foot's movements. This aspect is particularly beneficial during quick direction changes and is critical for achieving optimal performance.
Furthermore, the construction facilitated by the "3D Lasted Carbon Curv Composite" enhances energy transfer with each stride, making every movement on the ice powerful and effective. Whether it's accelerating or making sharp turns, the efficient energy transfer is crucial for achieving top-end speeds and maintaining control.
The integration of this feature with other advanced features like the Powerfly holder and Fly steel, as seen in the Bauer Vapor X5 Pro skates, provides more responsive turning, edging, and a secure fit.
Injected Facing
The "Injected Facing" feature in Bauer Vapor hockey skates, including the X5 Pro, signifies an innovative design aimed at elevating the fit and responsiveness of the skate to suit the demanding needs of elite players on the ice. This feature primarily contributes to enhancing lateral stability, crucial for maintaining balance and control during side-to-side movements.
We also found that it improves the lock of the foot to the skate, ensuring a snug fit which is vital for executing quick maneuvers and changes in direction on ice. The enhanced fit and lateral stability brought about by the injected facing work together to maximize the responsiveness of the boot under quick directional changes, facilitating better control and agility on ice.
The effectiveness of the "Injected Facing" feature is further magnified when integrated well with the quarter package of the boot, a design improvement seen in some models, which ups the ante on durability, quickness, and overall performance.
Also, in certain models, the injected lace facing with lace lock wraps the foot better, supports it, and allows for more control over the skate, with additional lacing pattern options providing a customized fit. Upgrades from previous designs in specific models have leveraged or enhanced the injected facing to further accentuate its benefits and the overall performance of the skates.
Through features like the "Injected Facing", modern design and materials are cleverly utilized to tailor hockey skates to the rigorous requirements of elite players, enabling them to perform at their peak on the ice.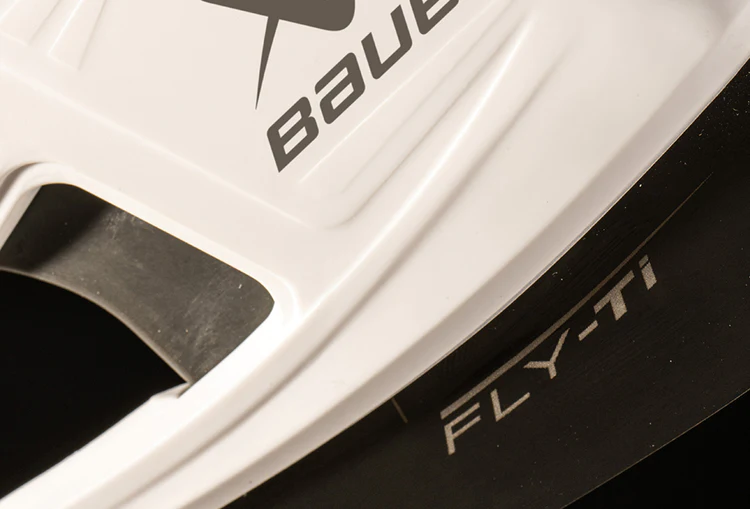 Powerfly Holder
The Bauer Powerfly Holder on the Bauer Vapour x5 Pro skate is a revolutionary skate holder designed to significantly enhance skating performance on the ice. A blend of meticulous research and innovative engineering has led to the creation of this first-of-its-kind holder, which is engineered to adapt and respond to every skating movement, making it a groundbreaking addition to the world of ice hockey equipment.
One of the hallmark features of the Powerfly Holder is its Stiff Front Post. This feature is designed to augment energy transfer with each stride, facilitating faster acceleration. This is particularly beneficial for players aiming to reach the puck faster, thereby gaining a competitive advantage over opponents.
In addition to the Stiff Front Post, the Powerfly Holder comes equipped with a Hyperbolic Stability Bar. This feature is engineered to enhance balance and stability, enabling quicker transitions, more precise turns, and a more powerful stride. The Hyperbolic Stability Bar is a crucial feature that contributes to better control and agility on ice, which is vital for competitive gameplay.
The Flexible Back Post is another innovative feature of the Powerfly Holder. It is designed to adapt to the skater's situational stride, allowing for faster side-to-side movements. This adaptability ensures that players can always stay ahead of their opponents, making them nearly unstoppable and uncatchable on the ice.
The Bauer Powerfly Holder is also known for its compatibility with new FLY-TI and FLY-X runners, which ensures enhanced blade security and reliability. However, it's important to note that it's not compatible with LS runners, a detail that potential buyers should be aware of.
This holder is not just a mere upgrade; it represents a leap in skate technology, providing a blend of speed, stability, and adaptability that aims to redefine skate performance. The unique design of the Powerfly Holder, especially its variable stiffness especially towards the front of the boot, leads to improved performance and explosiveness, making it a notable invention in the skating world.
Pro Stock 48oz Tongue
The "Pro Stock 48oz Tongue" is a notable feature in the Vapour X5. This unique design includes a thick felt tongue, often paired with injected inserts, aiming to provide a blend of support, protection, and comfort to the player. The 48oz tongue is an upgrade featured in these skates, representing a step forward from previous designs and offering a snug fit and enhanced protection against common on-ice impacts.
One of the major benefits of the Pro Stock 48oz Tongue is the improved forward flex it provides, which translates to a greater range of motion during skating strides. This feature is particularly beneficial for players looking to maximize their agility and responsiveness on the ice. The design of the tongue goes hand in hand with other skate construction elements, like the Carbon Curv boot construction, ensuring that players can move swiftly and precisely during games.
The flexible design of the 48oz Pro Tongue aids in maximizing energy transfer, which is crucial for achieving higher speeds and maintaining momentum on the ice. This is further complemented by other features in the skates such as the Agility boot shape, which together with the 48oz Pro Tongue, contributes to a better range of motion, thus aiding in the overall performance of the player on the ice.
Protection is another significant benefit offered by the Pro Stock 48oz Tongue. It excels in providing comfort and shielding players from common issues like lace bite, blocked shots, and stick checks. The added protection does not compromise comfort, making it a well-rounded feature for those seeking a blend of comfort, protection, and enhanced performance in their hockey skates. Moreover, some designs include an injected metatarsal guard within the tongue, offering an extra layer of protection to the player's foot.

HydroLite Liner
The HydroLite Liner is a significant feature found in some Bauer hockey skates, designed to enhance the player's experience on the ice. It is notably integrated into models like the Bauer Vapor 3X Pro and Vapor X5 Pro skates. This liner is engineered to provide a remarkable out-of-the-box fit and feel, aiming to ensure that players have a comfortable and snug fit right from the first use.
The HydroLite Liner, coupled with AeroFoam+ Padding, offers a custom-like fit as it shapes well around the foot during the heat molding process, making it a valuable addition for players seeking a comfortable and personalized fit.
One of the primary benefits of the HydroLite Liner is its moisture-wicking capability. This high-performance liner is specifically designed to keep the player's feet dry throughout the game, thus contributing to a more comfortable and less distracting skating experience.
By effectively managing moisture, it helps in maintaining a light feel inside the skates, which is crucial for players to maintain their agility and speed on the ice.
Furthermore, the HydroLite Liner is engineered to provide protection against wear or rubbing, which can be a common issue in hockey skates, especially during intense gameplay. This added protection is beneficial in reducing discomfort, thereby allowing players to focus more on their game rather than being distracted by discomfort or potential blisters.
The design of the liner, including wear patches in some models, ensures a snug fit while reducing the chance of discomfort even during extended periods of play.
Moreover, the HydroLite Liner works hand in hand with other features in Bauer skates, like the Aerofoam+ memory foam pads within the ankles of the boot, to deliver enhanced comfort, durability, and an improved fit. This cohesive design approach ensures that players get a well-rounded skating experience with a focus on comfort, protection, and performance.
The integration of the HydroLite Liner signifies Bauer's commitment to delivering high-quality, player-friendly features in their skate designs, making them a popular choice among hockey enthusiasts.
Pros & Cons
Now, let's break down the pros and cons of the Bauer Vapor X5 Pro ice hockey skates:
| Pros | Cons |
| --- | --- |
| The CURV Composite material offers rigid, lightweight support. | They may not be the most budget-friendly option. |
| The Pro Stock 48oz felt tongue provides comfort and protection. | These skates may not suit all foot shapes and playing styles. |
| The Lock Fit Pro liner offers durability, support, and moisture management. | Availability and sizing options may be somewhat limited. |
| Injected Facing ensures one-piece construction durability. | |
| Flex Facing design optimizes stride and power generation. | |
Final Thoughts
So what do we think? Well, the Bauer Vapor X5 Pro Ice Hockey Skates are a fantastic option for players like me who hit the ice regularly and demand a high-performance fit without compromise.
The PowerFly blade holder, inspired by the OD1N prototype, delivers lightning-fast turns and explosive acceleration, while the new steel line enhances blade security and holder durability.
Comfort is not an issue with the Vapor X5 Pro skates. The 3D Lasted Curv composite quarter package and Pro TPU outsole provide support and stability, so you can focus entirely on your game.
With availability in youth, junior, intermediate, and senior sizes and a price range of $649.99 to $849.99, there's a pair to fit every budget while still delivering top-end performance and fit.
In my personal opinion, the Bauer Vapor X5 Pro Ice Hockey Skates offer a winning combination of comfort, durability, and performance. They cater to both high-level players and those looking to invest in quality skates without breaking the bank.
So, lace up, hit the ice, and experience the game-changing performance of these skates for yourself!