Bauer claim that the new Supreme Mach is designed for the most powerful elite level athletes in the game – with a host of features that are entirely focused on getting power down onto the ice.
We got our hands on a pair and took them out on the ice to see if they deliver the power transfer that Bauer have promised – and to see if the new features are worth the uprated price tag.
Our test skates
The Bauer Supreme Mach ice hockey skates we received to test are a size 9 in Bauer's 'Fit2' medium volume/width.
Our scales showed a 837 grams – which is very impressive considering the amount of technology that's in the Bauer Supreme Mach. For comparison purposes, that's a boot construction that weighs in about 5% less than the Ultrasonic.
We know there are plenty of people out there that aren't a fan of the colour/graphic combos that Bauer have adorned some of the skates with in recent year. If you're one of these people, you're in luck – black on black is the name of the game with these Machs. There's a little carbon effect to mix things up a little – but a generally timeless and classy look.
First impressions
Even before baking the Bauer Supreme Mach skates feel glorious as you pull them on. The Lock Fit Pro tongue and boot lining feels somewhere between felt and a really soft suede – super comfortable even if you're wearing a thin sock.
The new Powercoil tongue has quite a surprising amount of snap back if you're not expecting it. Obviously this amount of snap feels greater against your hands than it ever would against your legs – but it's a noticeable difference, even if you're used to pro-level skates.
All told this is a stunning look pair of skates packed full of designs and materials that are focused on putting every ounce of power you can muster through your skates on onto the ice.
Technical features
Size: 9 (FIT 2 – MEDIUM VOLUME/MEDIUM WIDTH)
Weight: 837G (WITH CARBONLITE STEEL)
Heat Mouldable: YES
Quarter Package: 3D LASTED 12K CARBON CURV COMPOSITE (LIGHTWEIGHT STRUCTURE AND THERMOFORMABLE)
Ankle Padding: AEROFOAM PRO
Tendon Guard: REFLEX
Lining: LOCK-FIT PRO
Footbed: LOCK-FIT PRO (FEATURING GRIP PRINT)
Outsole: UNIBODY POWERWRAP TECHNOLOGY
Tongue: POWERCOIL (ENHANCED FORWARD FLEX AND RECOIL)
Blade Holder: TUUK LIGHTSPEED EDGE
Runner: CHOOSE YOUR STEEL: PULSE, PULSE TI, CARBONLITE
Warranty: 90 DAYS
3D Lasted 12K Carbon Curv
Bauer have put a lot of thought into how they can optimise energy transfer without compromising on comfort with the Supreme Mach.
This is always a tricky area to get exactly right – stiffness helps to boost stride length and inspire the most energy for end-to-end speed, but if you over-do the stiffness, you reduce mobility, diminishing the gains you've made elsewhere.
As such, most of the improvements in stiffness are made in the lower portion of the skate. The 3D Lasted 12k Carbon Curv Quarter design wraps higher than previous designs, helping to virtually eliminate flex through the unibody sole.
AMP FLEX facing
So, with stiffness at an absolute maximum through the footbed and quarter package, Bauer have got innovative higher up the skate. There's a new Active Motion Performance Flex zone added under the second and third eyelet gives 15% more load efficiency for a better range of movement.
The AMP Flex facing and reflex tendon work to let you get get deeper into an aggressive knee bend and really maximise your skating stride. Ultimately this is one of the key reasons people choose Supreme skates – so Bauer have pulled out all the stops to make sure the Mach delivers where people expect it to.
That said, it's not the only feature that contributes to enhancing that signature Supreme skate style…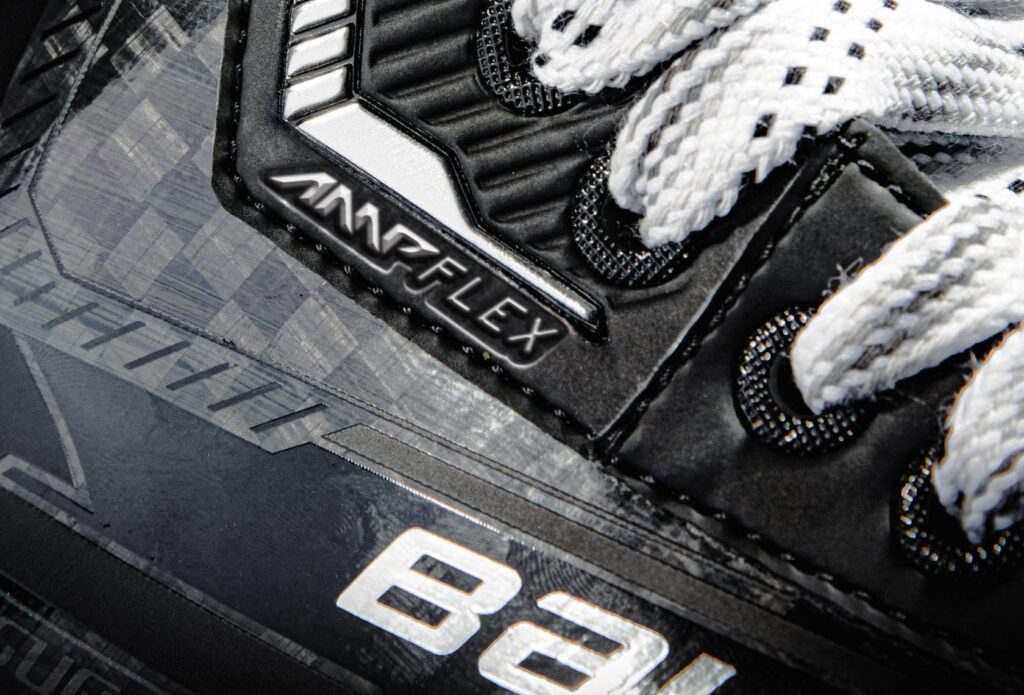 POWERCOIL tongue
Remember we said that snappy tongue stood out when you first get your hands on the Bauer Supreme Mach? Well, it's a key component to making this an outstanding skate.
Since the unibody sole stiffens for maximum energy transfer – the faster recoil speed of the inspires huge amounts of confidence in the flex through the upper portion of the skate. When you first pull the Bauer Supreme Mach on, it feels a little alien – but you'll get used to it quickly and it really helps you lean into your stride knowing there's just a little more active support there for your weight.
Needless to say, the Powercoil Tongue features outstanding materials – so there are no comfort issues to contend with.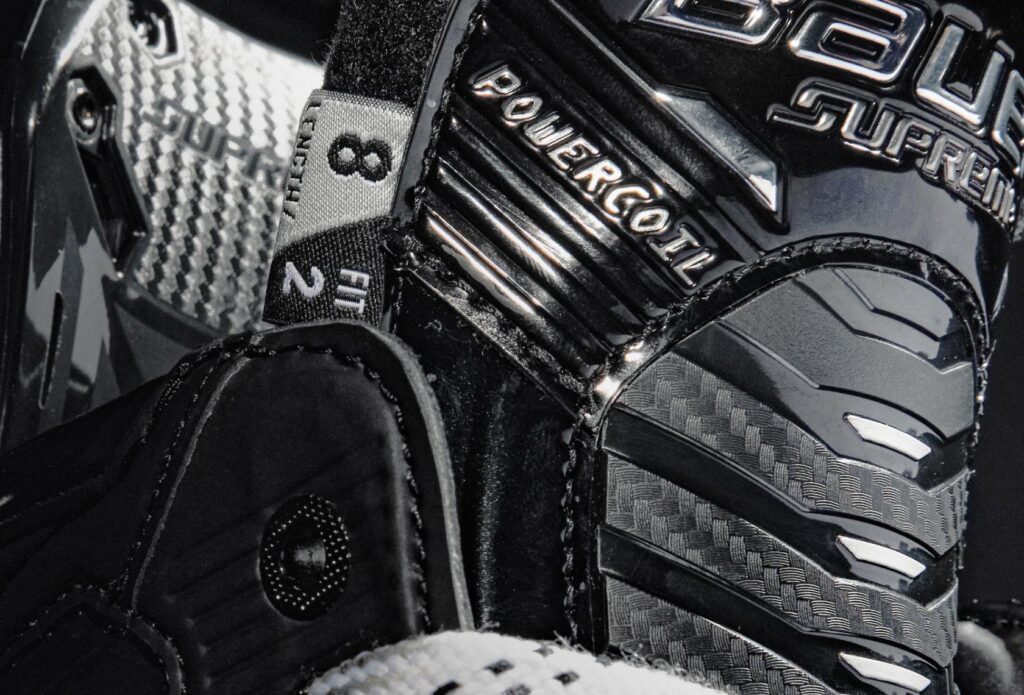 Choose your steel
While most skates today come with a standard set of steels (albeit ones that are usually well-matched to the buyer), Bauer has decided that their Supreme Mach skate instead comes with a blade option.
Runners come separately from the skates – and you can choose between Pulse runners, Pulse TI runners, or their top-of-the-line Carbonlite runners.
Pulse runners
So, what's the difference? Well, the standard Pulses stand out as having a high-polish mirror finish, increased height, and a premium core material offering enhanced on-ice glide, along with outstanding durability.
Pulse TI runners
The Pulse TI runners keep this increased height but have a titanium outer coating and an even more premium core material – offering an even better performance and improved edge retention.
Carbonlite runners
Take the next step up and you'll get the ultra lightweight Carbonlite runners. Bauer claim these are 35% lighter than a traditional steel runner – thanks to the blended carbon fibre section. They also offer increased torsional flex to improve energy transfer – helping to make for a more powerful stride on the ice.
Your choice of runner will come dull but can be sharpened by request.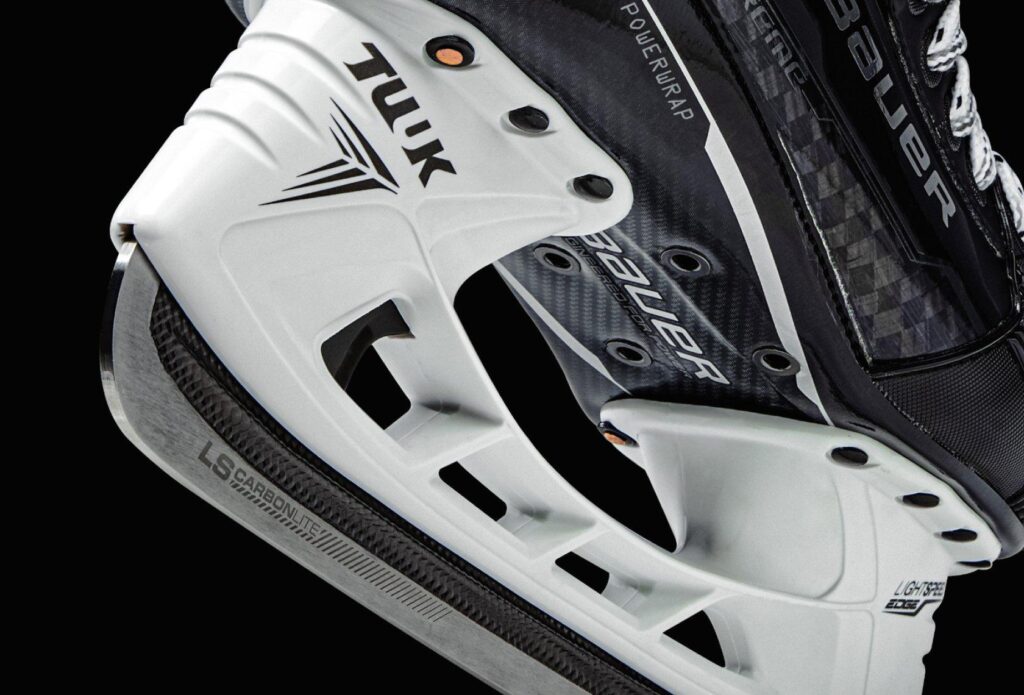 Pulse TI toe cap
It's not been a problem for all players – but a few people have reported that previous Supreme toe caps are slightly restrictive, compared to the overall fit of the rest of the skate. It might not feel like a massive deal – but quite frankly, if you're spending this much on a paid of skates, you really don't want to be making compromises – not even 1%.
As such, Bauer have increased the volume of the asymmetrical toe cap on the Machs. Don't worry, there's no negative space to speak of – just carefully designed volume so there's never any comfort compromise.
Overall: The most advanced Supreme skate ever made?
At this stage, it's difficult to take any pro-level skate and improve on power transfer without compromising on comfort. With this in mind, Bauer have really had to dig deep and add some innovation with the Supreme Mach.
Without the AMP Flex or the faster recoil speed of the POWERCOIL tongue, this would potentially be a skate that's too stiff – but by balancing the stiffness of the lower section with these genuinely innovative additions higher up the boot, Bauer have been able to push the envelope around what's possible when it comes to getting every ounce of energy onto the ice.
If you love the style of stride that the Supreme range inspires and are ready to take things to the next level, this is a truly outstanding pair of skates that looks, feels, and performs to a cutting-edge elite level.