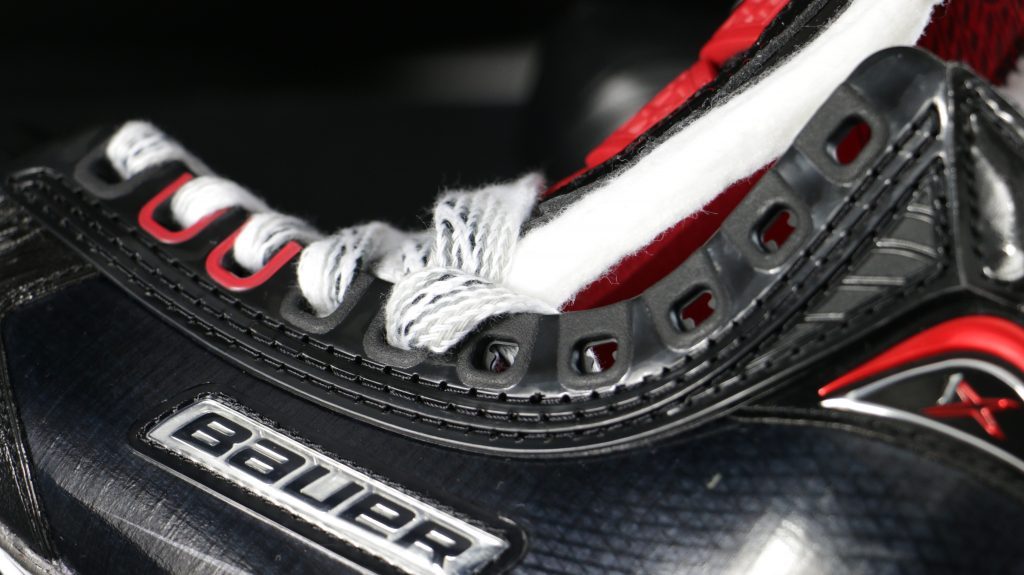 The Vapor 1X has been one of Bauer's most anticipated recent launches – and, true to form, they don't disappoint, producing a pair of stunning looking skates.
But, we know you're not spending this amount of money just to look good. That's why we've tested and analysed longer and more rigorously than anywhere else – to make sure you've got all the information you need to decide whether the 2017 Vapor 1X are the skates for you.
Our test skates
We tested the Vapor 1X in a 9 EE – tipping the scales at a featherweight 809 grams.
Straight out of the box it's clear these are world class skates, there are no corners cut – although I have to confess I was worried about comfort in such a super-stiff skate. More on that later.
If you've owned Vapors before, or read that they tend to be a more narrow fit – you're right, hence my request for an EE. Something to be aware of if you've used to ordering a standard D.
First impressions
Obviously, the first thing I did was to pull them on and get onto the ice. The lightweight was immediately noticeable, I felt extremely sharp, agile and, above all, fast. My initial feeling was that I was getting lower to the ice when turning too.
There's a lot of science in these skates – but even without in-depth analysis, I could tell there was very little wasted energy – every movement felt instantly translated through the skate.

Technical features
Size: 9.0 EE
Weight: 809 grams
Heat mouldable: Yes
Quarter Package: Asymmetrical 3D lasted and aluminized Curv Composite – featuring thermoform X-rib pattern
Ankle padding: Super light memory foam
Heel support: Curv Composite anatomically formed heel counter
Tendon guard: Stiff flex
Lining: 37.5 Polyester, Total Edge Comfort
Footbed: Patented Bauer Speed Plate thermoform balance plate
Outsole: Full carbon Kevlar vented composite
Tongue: Thermoformable composite skin with metatarsal guard insert. Three-piece 52oz central and 40oz outer edge Form-Fit Lite construction
Blade holder: TUUK Lightspeed Edge
Runner: Tuuk LS4 Edge Stainless
Warranty: Boot (90 days) Holder (365 days) Runner (90 days)
The Vapor 1X experience
There's no getting around the fact that these skates are packed full of ergonomic tech design features – and it's reflected with how well they fit and perform. I've broken my thoughts on the skates down into how the different elements impact the experience.
Tongue
I'm going to start with something that I feel other reviews have overlooked somewhat – the tongue. Bauer brand the tech as 'Flex lock pro' – and at the fore, there's a thermo-formable composite material that allows moulding of the tongue after the skate's visit to the oven.
For me, this custom forming, twinned with the 52oz centre/40oz sides super thick and comfortable three-piece tongue construction really added to that 'second skin' feel that I got from these skates. I've never had an issue with a skate tongue – but after experiencing this level of custom fit, I can see a real comfort benefit and a feature I'd actively seek out moving forward.

Speed Plate insoles
While we're talking amazing fit – I've got to talk about the Speed Plate insole.
I've always been a fan of adding an aftermarket sole to my skates – there's something about the way I skate and train that can means I get a slight muscular ache in the soles of my feet after a prolonged period on the ice.
If you're similar – or you always find yourself ordering new insoles after a couple of weeks with a new skate, you're going to fall in love with these heat mouldable Speed Plates. What's more, the Speed Plate material actually spreads and balances the load that's applied to it – meaning no sore points on your feet – and an even distribution of the power between your feet and the skates – equalling greater energy efficiency and enhanced stability.

Liner
Obviously, the liner's something that you're not going to see the full benefit of until you're getting hot and sweating it out during a game – but when you do, the new 37.5 inner really impresses.
Not only does the 37.5 wick the sweat away from your feet, it also draws excessive heat away from your skin, meaning you're less likely to break an uncomfortable sweat in the first place. In my experience, wicking and heat dispersing technology is all well and good – but if it's backed by non-porous composites (as 95% of skates are) then you're only dry and cool until it becomes saturated. This is where the vented carbon composite soles really benefit the Vapor 1X – they pull the sweat and heat away – and keep it away.
It's also worth noting that I felt the lining had increased grip over any other I've experienced. Not something that'll make you rush and out and buy the Vapor 1X alone – but just another little detail that makes this such an impressive skate.
Lacing
When compared to the original 1X skate, the Injected Stability Lacing system has also seen some changes. It's noticeably hollowed out – meaning you get a better wrap across the tongue and foot.
What's more, the skate has Bauer's Lace Lock mechanism at the 4th and 5th eyelets and notched eyelets throughout (something they initially put out on the Supreme 1S) – meaning consistency of tension is much more easily achieved. Twin this with the thermoformed tongue and you get an incredibly responsive feel when you're moving on the ice.

Total Edge Comfort
I mentioned earlier that I was slightly concerned about the clear stiffness of the Vapor 1X. I've worn elite standard skates for years I've often found the stiffness a little unforgiving. So for me, the Bauer designed Total Edge Comfort padding was a huge benefit.
Sure, a lot of skates focus on padding around areas that contact when pressure's applied, but I've never experienced something that's quite this stiff yet forgiving at the high-ankle points when you're putting down a tight turn. Another big tick in the favour of the Vapor 1X.
TUUK Lightspeed Edge blade holder
Upon closer inspection (and some serious measuring) it became apparent that my impression of being able to get lower and tighter to the ice when seriously turning probably wasn't an illusion. The TUUK Lightspeed Edge holder adds 3mm of height versus its predecessors.
Not only that, but the TUUK LS4 Edge runner also adds an additional 3mm. While these measurements might seem insignificant – translated up to the sole of the boot they have quite an impact on the angle that's achieved before you bottom out. Tighter angles, tighter turns.
Oh, and as ever, the TUUK trigger mechanism lets you switch runners out in a split second.

Overall thoughts
I'm blown away by the Vapour 1X. This is a skate that totally lives up to the hype – and actually surpasses the excitement when you really drill down into what makes it so amazing.
We've all seen skates that promise innovation but deliver the same performance as the previous year's model. The Bauer Vapour 1X isn't guilty of this – this is true technological development to benefit the wearer.
You and I both know that there's no magic bullets when it comes to improving your game – but if you want something that comes extremely close, the Vapour 1X is it.